Well, it was really no surprise that they were retarded. They've proven their lack of intelligence over the past year. However with the release of his ex's baby being proven to be his I'm convinced they have just barely enough brain cells to even type out a full sentence.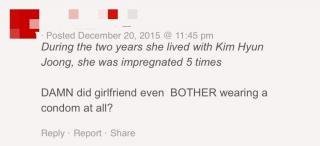 Where in the fuck did they take sex-ed? Is America's sex-education really that fucking bad? Yes there are female condoms, but I highly doubt they're even talking about those considering it's not overly popular for females to wear them. Do they seriously think that women have dicks? What the actual fuck?
You know how I said YG had the worst stans? I take that back, Kim Hyun Joong now single handily has the worst fandom in existence, and they're officially as awful as him.